Heavily Scented Candles: Making Your Own by Deborah R. Dolen
Click Here to Purchase the Instruction Manual!

Click here for our new DVD Video!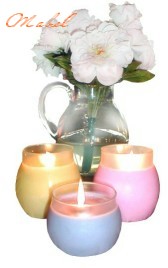 Do you love heavily scented candles, but tired of paying outrageous prices! Make your own for next to nothing and have plenty to give to friends!
Learn how to make YOUR OWN Candles! This instructional guide tells you everything you need to get started! We teach melt and pour soy wax methods, pillar wax techniques and molding, chunk candle making as well as simple and eloquent hand rolled bees wax methods and the best suppliers.

Increase decorating and celebrating possibilities with a supply of these beautiful basics.
Remember to brighten up gifts with a rainbow of your creations. Nurture mind, body and soul-anytime, anywhere-with your favorite therapeutic scents that have been promoting good health for centuries. We even show you what dye will make soy candles a brilliant color and not just a pastel.
Enjoy and share their effectiveness everyday through these hand-poured candles using 100% essential oils.
We give you all the instructions you need to create these gems at home along with the most economical suppliers we can find on the web. Therapeutically fragrant candles made from naturally aromatic plants and flowers.

We also show you how to make beautiful rolled bees wax and hand dipped candles such as the ones you see in the top left photo. Stop paying outrageous prices for beautiful things when you can easily create your own!
Corrected ISBN: 1-894872-02-9